Seat Time's Purveyor of Awesome to Host GNCC Loretta Lynn's Live Webcast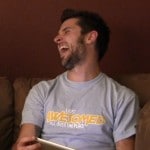 Brian Pierce will team up with Jeremy Saylor this weekend at the Can-Am Grand National Cross Country Series Loretta Lynn's Event in Hurricane Mills, TN. Brian is the host of Seat Time, a videocast that covers Offroad Racing and has been pushing the limits of motorcycle news consumption on digital devices. His bright personality will bring a different dynamic to the Live webcast and hopefully his involvement will stem some great responses. Jeremy will be producing the show, keeping the feed up and attributing one liners and insight throughout the event.
The webcast will be available on the GNCC website and the Seat Time website (links below). Be on the look out for a chat room link to pop up, so you can interact with our hosts as they bench race you through the final round of the GNCC Series.
Seat Time Live : http://seattime.co/live/
GNCC Live : http://gnccracing.com (Official home coming soon)