Taking the Ego out of the box, you immediately notice that this is a surprisingly small, light camera. The chances of you feeling it attached to your helmet are minimal. It has a rugged appearance thanks to the hard rubber casing. There are very few buttons, keeping things simple and easy to use. The mounts included are similar to other camera mounts on the market, which make them easy to adjust. The viewfinder is tiny, but sized accordingly for its function and the rubber side flap covers the ever-important connections.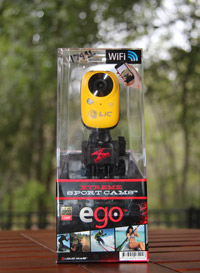 The highlight of this camera is the WiFi connectivity to an Android or iOS Device. Liquid Image added a display feature to this camera in a unique way; instead of increasing the size of the camera with a larger viewfinder, the Ego connects through an App on your Android or iOS Device. With the addition of the Action Connect App to your device you can connect to a WiFi signal that the Ego transmits to setup shots, control the camera and share recordings. Pretty neat setup, but is it something that will make the recording experience better or feel a bit more clunky?
The size of the camera could be a bit of a problem. The fact that it is small and less obtrusive is great, but if it were to get knocked off due to a branch or crash, its size would make it difficult to find in the dirt, brush or rocks. Getting the brightest color available might be the best idea. It is available in black, white, blue, red and yellow.
Speaking of getting knocked off, this camera feels rugged, but can it really take the abuse given during a muddy, rocky, cross-country race? The plastic cover for the front seems a bit thin considering what this camera might go through. The buttons on the top appear to be water-resistant, but if water or mud did get under the side flap, the ports would be ruined. There is a waterproof case available, but it costs another $40 and adds some serious size to the camera.
The two buttons on either side of the viewfinder are easy to see and find, even with gloves on. The viewfinder is difficult to read at times, but since it's designed for quick glances and verification of settings, this doesn't seem to be a big deal. The buttons have minimal functions (Power/Mode and WiFi/Select), so there is a less likely chance of being confused. There is no treasure map needed to make mode selections and select options.
With a tripod mount built into the camera, no adapter is needed for the world's most generic camera mount. The mounting arms thread in the camera and snap into the helmet mount. More adapters and mounts will be available, but right now the main sticky mount works well, along with possibly the aid of some zip-ties and Gorilla Glue.
The specs for the Ego are impressive. It shoots video in 720p at 60fps and 1080p at 30fps. Not having an option to shoot 30fps at 720p will add more file size to videos, as well as more frames. If there is any flickering, there are ways to convert the footage to 30fps. There is no slow motion in Full HD on this camera, which is starting to become a much-needed option for some filmmakers. There is also a choice between Single Photo Mode and Continuous Photo Mode. The Ego uses Micro-SDHC for internal storage and has Mini-USB & Mini-HDMI ports under the side flap.
Overall, it is an exciting option to have this camera released by Liquid Image. Their Scuba Diving technology and mind-set could help evolve the Action Sports helmet camera market. The Ego is a great camera for someone who is looking to document trips, rides and adventures. Its limited shooting options will probably not work well for professionals and videophiles, but it is certainly a step in the right direction.
At $180 this is a great price-point for a helmet camera. Its options and price compete well in the market. Surfers will definitely want to purchase the waterproof case, but other users should consider it as well, especially for those times when shooting situations include massive amounts of water!
View Liquid Image Ego Camera on Amazon.com
Rating:

3 Pints of Awesome
If you are interested in purchasing this product, please visit SMSRACING.NET or call 940.381.0737.